Clarinet Choir Repertoire
arr. Himie Voxman
- Rubank Inc. Music Pub.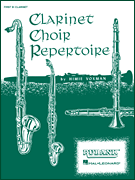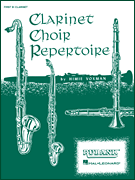 Clarinet Choir Repertoire
arr. Himie Voxman
- Rubank Inc. Music Pub.
Contents: Air and Gigue (Handel/Voxman); Allegro from "Sinfonia II" (Bach/Voxman); Allegro Rococo (Koepke); Andante and Rondo (Ostransky); An der Wiege (Grieg/Voxman); Blue Twilight (Walters); Four Short Pieces (Hervig/Voxman); Lyric Piece (Grieg/Voxman); Menuetto from "Serenade No. 1" (Mozart/Voxman); Polonaise and Presto from "Divertimento No. 12" (Mozart/Hervig); and Valse a la Scherzo (Walters).
Select a Product
Customers Also Bought
Full Song List
MOTET OP 29 NO 1 BRAHMS)
CHRISTMAS ORATORIO, THEME FROM
LYRIC PIECE NO.2,OP.68 GRIEG)
POLONAISE & PRESTO DIV.#12)
VALSE A LA SCHERZO WALTERS)
MENUETTO MOZART)
AIR & GIGUE CON.GROSS OP6)HANDEL
ALLEGRO (BAC
ALLEGRO ROCOCO KOEPKE)
ANDANTE & RONDO OSTRANSKY)
AN DER WIEGE,OP.68#5 GRIEG)
BLUE TWILIGHT WALTERS)
BALLAD (RIMSKY KORSAKOFF)
PUER NATUS IN BETHLEHEM BACH)
This item appears on the following state lists: