Come, Thou Long-Expected Jesus
(A 23 minute mini-musical for Christmas)
Dave Clark
- Lillenas Publishing Co.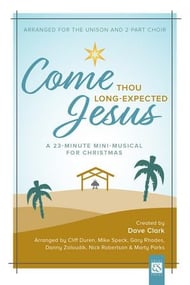 Come, Thou Long-Expected Jesus
(A 23 minute mini-musical for Christmas)
Dave Clark
- Lillenas Publishing Co.
Emmanuel has come! What great joy comes from the longing and expectation of a Savior. Come Thou Long-Expected Jesus envelops us with the jubilation of a Savior come to Earth, wrapped in swaddling clothes. We can't help but sing in honor and glory of our Redeemer. This new Christmas mini-musical combines old Christmas favorites, new worship-filled songs, and Christmas medleys that will speak to every generation.
Copyright: : ©2020
Select a Product
Customers Also Bought
Full Song List
Christmas Worship Medley (Tell Me the Story of Jesus, How Great Our Joy!; Angels From the Realms of Glory; O Come All Ye Faithful; Joy to the World))
Come Thou Long Expected Jesus with Come, Thou Great Redeemer
Sing the Glory
Emmanuel (Hallowed Manger Ground)
Call Him Jesus with Jesus, O What a Wonderful Child