Concert and Contest Collection for Trumpet or Baritone
ed. Himie Voxman
- Rubank Inc. Music Pub.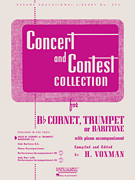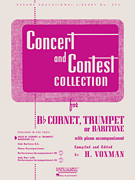 Concert and Contest Collection for Trumpet or Baritone
ed. Himie Voxman
- Rubank Inc. Music Pub.
Selections include: Air Gai (Berlioz); Andante and Allegro (Clerisse); Andante from "Concerto in E-flat" (Haydn); Calm as the Night (Bohm); Concertino (Ostransky); Dedication (Strauss); Elegie (Duquesne); L'Allegro (Koepke); Morceau de Concours (Alary); My Regards (Llewellyn); Orientale (Barat); Petite Piece Concertante (Balay); Premier Solo de Concours (Maniet); Romance in E-flat (Ostransky); Sarabanda and Gavotta (Corelli); and Serenade (Bohm).
Select a Product
Customers Also Bought
Full Song List
MY REGARDS LLEWELLYN)
ORIENTALE BARAT)
PETITE PIECE CONCERTANTE BALAY)
PREM.SOLO DE CONCOURS MANIET)
ROMANCE IN E FLAT OSTRANSKY)
SARABANDA & GAVOTTA (COR
SERENADE,OP.22,NO.1 BOHME)
CALM AS THE NIGHT STILL WIE DIE NA
ZUEIGNUNG STRAUSS)
AIR GAI BERLIOZ)
ANDANTE & ALLEGRO CLERISSE)
ANDANTE CONCERTO IN E FLAT)
CONCERTINO OSTRANSKY)
ELEGIE (DUQU
L'ALLEGRO KOEPKE)
MORCEAU DE CONCOURS ALARY)
This item appears on the following state lists:
This item appears on the following festival lists: