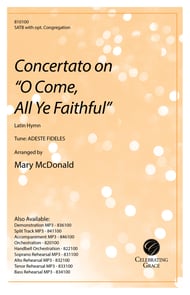 Concertato on "O Come, All Ye Faithful"
arr. Mary McDonald
- Celebrating Grace, Inc
This festive setting of a Christmas favorite is full of joy and energy! The arrangement, set in 12/8, begins with choir and congregation in unison, then builds to three-part harmony. With the transition to a new key and 4/4 time, the choir sings the middle stanza in lush harmonies. The 12/8 meter returns, choir and congregation join to create a jubilant ending. Parts for optional handbells (3 octaves,) brass quintet and timpani available separately.
Copyright: : ©2023
Select a Product
Customers Also Bought
This item appears on the following festival lists: