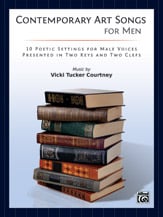 Contemporary Art Songs for Men
Vicki Tucker Courtney
- Alfred Music Publishing
Here are ten exquisite settings for male voices of any age, featuring classic poetry written entirely by male poets. This unique book offers each piece in both treble and bass clefs, high and low keys, making it equally appropriate for the mature recital singer or the newly changed voice. Contents:
A White Rose; An April Day; Birthday Verses; The Growth of Song; I Love Thee; Music I Heard; A Song; November; To...
and
When Christmas Comes.
Select a Product
Customers Also Bought
Full Song List
A WHITE ROSE
AN APRIL DAY
BIRTHDAY VERSES
THE GROWTH OF SONG
I LOVE THEE
MUSIC I HEARD
A SONG
NOVEMBER
WHEN CHRISTMAS COMES