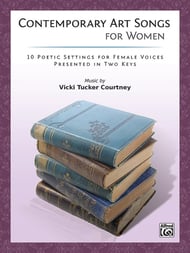 Contemporary Art Songs for Women
Vicki Tucker Courtney
- Alfred Music Publishing
This collection of 10 exquisite settings for female voices of any age features texts by female poets. Each piece is offered in both high and low keys and is equally appropriate for the mature recital singer and the developing voice. Songs include: Chimes; The Christmas Letter; A Fancy; Gifts; I Am the Wind; Repetition; Rhapsody; What Do the Stars Do?; What Would I Give? and Will There Really Be a Morning?.
Select a Product
Customers Also Bought
Full Song List
CHIMES
THE CHRISTMAS LETTER
FANCY GIFTS
I AM THE WIND
REPETITION
RHAPSODY
WHAT DO THE STARS DO?
WHAT WOULD I GIVE?
WILL THERE REALLY BE A MORNING?
This item appears on the following state lists: