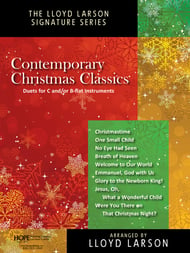 Contemporary Christmas Classics
arr. Lloyd Larson
- Hope Publishing Company
This collection of ten contemporary Christmas classics arranged as duets for C and/or B-flat instruments continues Lloyd Larson's successful series of settings for two instruments designed to enhance any holiday celebration. The book comes with a CD that includes printable PDF files of the instrumental parts as well as piano accompaniment tracks for each title. Titles include: All Is Well; Breath of Heaven (Mary's Song); Christmastime; Emmanuel, God With Us with Emmanuel; Jesus, Oh, What a Wonderful Child; No Eye Had Seen; One Small Child; Welcome to Our World; Glory to the Newborn King! and Were You There on That Christmas Night?
Select a Product
Customers Also Bought
Full Song List
ALL IS WELL
BREATH OF HEAVEN (MARY'S SONG)
CHRISTMASTIME
EMMANUEL, GOD WITH US WITH EMMANUEL
JESUS, OH, WHAT A WONDERFUL CHILD
NO EYE HAD SEEN
ONE SMALL CHILD
WELCOME TO OUR WORLD
GLORY TO THE NEWBORN KING!
WERE YOU THERE ON THAT CHRISTMAS NIGHT?