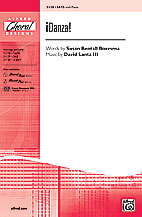 Danza!
Susan Bentall Boersma & David Lantz III
- Alfred Music Publishing
This lively song alternates between Spanish and English lyrics, inviting you to dance "...from your head down to your feet."  And that's exactly what you'll want to do as the infectious Latin rhythms and fresh contemporary harmonies sizzle and grow to the end!
Select a Product
Customers Also Bought
MINTS