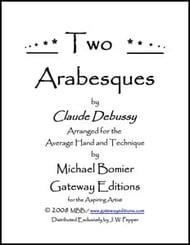 Deux Arabesques
Debussy, Claude
- Gateway Editions
Publisher Desc.
Both Arabesques are presented here, with logical and hassle-free pageturns, clearer notation, and other improved graphic features such as no clef changes in mid-measure, fewer ties that obscure rhythm, and use of stems-up R.H. stems down L.H. to provide more ease at reading and playing from score than the original Durand editions or any subsequent reprints, such as those found in so-called "piano-bench" editions.

All notes are 100% original. Audio clip is of the 2nd, lesser-known Arabesque, so that students and teachers, who may know the first one already, can get an audio glimpse of its less frequently played partner.

Both selections retain original spellings using some double sharps, for a unified harmonic concept, rather than imposing shifts between several sharps, juxtaposed against several flats. Medium difficulty at moderate tempos, more difficult, but more rewarding at a faster pace.
Select a Product
Customers Also Bought