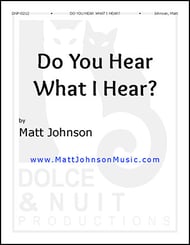 Do You Hear What I Hear?
(new melodic and harmonic version)
Matt Johnson
- Dolce & Nuit Productions
Publisher Desc.
New melodic and harmonic version of the traditional lyrics. A contemporized reworking of the traditional Christmas piece. Accompaniment tracks available below. COMPOSER NOTES The lyrics from this holiday favorite are now wrapped inside a new harmonic box and surrounded by a silky-smooth, melodic ribbon. While Noel Regney originally penned these classic words in 1962, Matt found a way to regift them musically 50 years later by thinking "outside of the box." Once opened, Heidi Enders' stirring vocals beautifully lift the song "high above the tree, with a voice as big as the sea."
Select a Product
Customers Also Bought