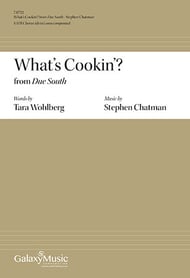 Due South: 2. What's Cookin'?
Stephen Chatman
- Galaxy Music Corporation
A cappella
From Due South, one in a series of four choral suites that explore the cultural and natural wonders of various regions of North America. This second movement takes its sweet time tantalizing the listener with all the menu items of a truly Southern feast. Music, set to a slow tempo in swing eighths, makes the recitation tempting if not downright sultry.
Select a Product
Customers Also Bought