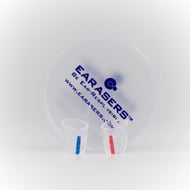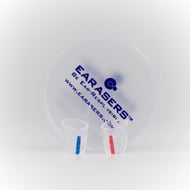 Earasers Musicians' Ear Plugs
- Persona Medical
Publisher Desc.
Whether you are a musician, attend concerts or are exposed to music played at high levels, EARasers don't plug up your ears and muffle sound like conventional earplugs. Manufactured by a 45+ year hearing aid company, and developed by their lead engineer who has been a musician for over 20 years, EARasers filter loud noise and allow you to hear at a safe, comfortable level. Most adult women wear size small.
The world's first flat frequency response earplug (+/- 6dB; 250Hz-6KHz)
Reduces up to 19dB of dangerous high frequency sounds
Smart SealTM technology ensures the perfect fit
Comfortable and Reusable
Made of Soft Silicone
Wondering what size? Research and fitting history suggests the following general guideline however each individuals ear canals are unique:
X-SMALL - typically used by youth, such as Middle School / some High Schoolers - Very Small % of Adult population. We always recommend you try the SMALL before attempting the X-SMALL.
SMALL - typically the majority of Women and Younger Males (late 20's and younger). Works well for some Adult Males who prefer a farther-in-the-ear canal fit.
MEDIUM - typically these work well with Adult Males (late 20's and up) who prefer not-so-far-in-the-ear canal fit, and the majority of Males over the age of 60.
LARGE - Very Small % of Adult population.
Select a Product
Customers Also Bought