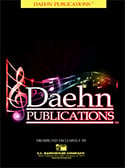 English Country Settings
Pierre La Plante
- Daehn Publications
This affecting composition is based on three traditional songs from the British Isles:
May Day Carol; O Waly O Waly
and
The Ash Grove.
Set in two movements, the first is a "Serenade" and the second is a lively "Jig." The traditional sound of the British wind band found in so many staples of the repertoire is in full force here. Very nice!
Select a Product
Customers Also Bought
This item appears on the following state lists: