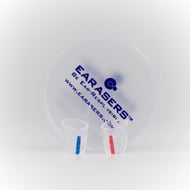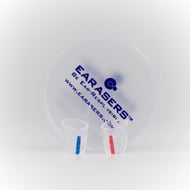 Earasers Musicians' Ear Plugs
- Persona Medical
Whether you are a musician, attend concerts, or are exposed to music played at high levels, Earasers don't plug up your ears and muffle sound like conventional earplugs. Manufactured by a hearing aid company with 50+ years of experience and developed by their lead engineer who has been a musician for over 20 years, Earasers filter loud noise and allow you to hear at a safe, comfortable level.
• The world's first flat frequency response earplug (+/- 6 dB; 250 Hz - 6 kHz)
• Reduces up to 19 dB of dangerous high-frequency sound
• Smart Seal technology ensures the perfect fit
• Comfortable and reusable
• Made of soft silicone
Wondering what size? Research and fitting history suggest the following general guidelines; however each individual's ear canals are unique:
Extra Small: Typically used by middle school and some high school youth; only a very small percentage of adults. We recommend you try the Small before turning to the Extra Small.
Small: Typically fits most women and younger men (late 20s and younger). Works well for some adult men who prefer a fit farther in the ear canal.
Medium: Typically works well with adult males (late 20s and up) who prefer a fit not as far in the ear canal as well as the majority of men over the age of 60.
Large: A very small percentage of the adult population.
Select a Product
Customers Also Bought