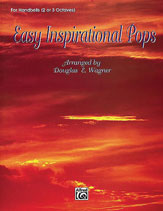 Easy Inspirational Pops
Various/Wagner
- Jubilate Music Group, LLC
Both secular and sacred occasions alike are well served by the songs contained in this collection. These ten arrangements are all pieces that are familiar and have become pop standards for weddings, commencements, concerts and many other gatherings. The collection includes:
From A Distance; The Morning After; Over The Rainbow; The Rose; Sing A Rainbow; Sunrise, Sunset; Theme from "Ice Castles" (Through The Eyes Of Love); Tomorrow; The Wind Beneath My Wings
and
You Light Up My Life.
Select a Product
Customers Also Bought
Full Song List
SUNRISE, SUNSET
THE MORNING AFTER
THE ROSE
TOMORROW
OVER THE RAINBOW
THEME FROM ICE CASTLES
YOU LIGHT UP MY LIFE
FROM A DISTANCE
THE WIND BENEATH MY WINGS
SING A RAINBOW