Eight Chorale Preludes for Manuals Only No. 2
arr. Aaron David Miller
- Augsburg Publishing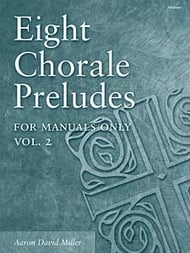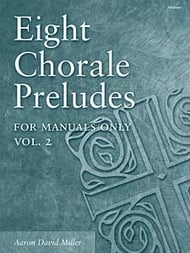 Eight Chorale Preludes for Manuals Only No. 2
arr. Aaron David Miller
- Augsburg Publishing
This is just what your feet are looking for! These settings are varied and have a medium level of difficulty and also include registration suggestions. Great for the pianist who is filling in on the organ. Contents are:
At The Lamb's High Feast We Sing; Come, Thou Long Expected Jesus; Crashing Waters At Creation; Love Has Come; Light Dawns On A Weary World; My Shepherd Will Supply My Need; This Little Light Of Mine
and
When I Survey The Wondrous Cross (Rockingham Old).
Select a Product
Customers Also Bought
Full Song List
AT THE LAMBS HIGHT FEAST WE SING
COME THOU LONG EXPECTED JESUS
CRASHING WATERS AT CREATION
GOD SO LOVED THE WORLD
LOVE HAS COME
LIGHT DAWNS ON A WEARY WORLD
MY SHEPHERD YOU SUPPLY MY NEED
RISE O SUN OF RIGHTEOUSNESS
THIS LITTLE LIGHT OF MINE
WHEN I SURVEY THE WONDROUS CROSS