Ensemble Classics for Clarinet Quartet, Vol. 1
(for 4 Bb Clarinets)
arr. Himie Voxman
- Rubank Inc. Music Pub.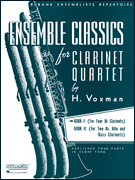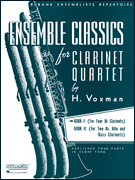 Ensemble Classics for Clarinet Quartet, Vol. 1
(for 4 Bb Clarinets)
arr. Himie Voxman
- Rubank Inc. Music Pub.
Contents:  Bochsa-Andante; Mozart-Ave Verum Corpus; Bach-In Thee Have I Trusted, Lord; Mendelssohn-Equale #1; Bohne-Finale from "Quartet in G"; Gretchaninoff-Holidays; Artot-Hunter's Round; Schmidt-Minuetto; Haydn-Oxen Minuet; Bohemian-Polka; Humperdinck-Prayer from "Hansel and Gretel"; Bohemian-Rustic Dance; Schumann-Wintertime; French Chant-42nd Psalm.  Published in score form only, with multiple copies needed for performance.
Select a Product
Customers Also Bought
Full Song List
POLKA
SCENES CHILDHOOD OP.15 SCHUMANN)
RUSTIC DANCE
CHORALE
PRAYER
HUNTERS' ROUND ARTOT)
ANDANTE BOCHSA)
MINUETTO SCHMIDT)
OXEN MENUET HAYDN)
EQUALE NO.1 MENDELSSOHN)
FINALE QUARTET OP.64) BOHNE
HOLIDAYS OP.119) GRETCHANINOFF
FORTY SECOND PSALM (FRENCH)
AVE VERUM JESU, WORD OF GOD INCARN
This item appears on the following state lists: