Ensemble Classics for Clarinet Quartet, Vol. 2
(for 2 Bb, Alto and Bass Clarinets)
arr. Himie Voxman
- Rubank Inc. Music Pub.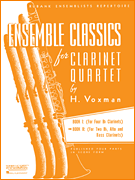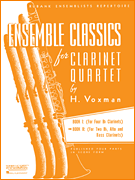 Ensemble Classics for Clarinet Quartet, Vol. 2
(for 2 Bb, Alto and Bass Clarinets)
arr. Himie Voxman
- Rubank Inc. Music Pub.
Contents: Flegier-Andante Sostenuto; Handel-Bourree from Water Music; Bach-Why Grievest Thou O My Soul; Schumann-Chorale from Album for the Young; Haydn-Finale from Quartet; Rameau-Gavotte; Schubert-Impromptu; Handel-Marche Solennelle; Lully-Menuet from Le Bourgeois Gentilhomme; Haydn-Minuetto from Quartet; Bach-Sarabande from First French Suite; Liadow-Sarabande from Les Vendredis; Beethoven-Two Country Dances; Giardini-Come Thou Almighty King. Published in score form only, with multiple copies needed for performance.
Select a Product
Customers Also Bought
Full Song List
FINALE QUARTET NO 43 OP 42)
GAVOTTE NAIS) RAMEAU
MARCHE SOLENNELLE (HA
MINUETTO QUARTET OP 17 #5)
SARABANDE LES VENDREDIS) LIADOW
COME, THOU ALMIGHTY KING
MINUET (L
IMPROMPTU OP 142 #2 SCHUBERT)
SARABANDE 1ST FR.SUITE) BACH
COUNTRY DANCE BEETHOVEN)
BOURREE
ANDANTE SOSTENUTO FLEGIER)
WHY GRIEVEST THOU MY SOUL BACH)
CHORAL, OP.68 #4
This item appears on the following state lists: