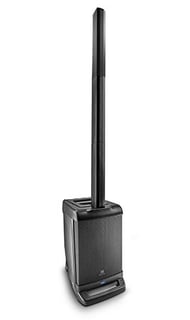 Eon One Portable PA System
JBL Professional by Harman
- JAM Industries USA LLC
All-in-one linear array PA with legendary JBL sound- cutting-edge directivity technology delivers clear, detailed audio to your whole audience.
Extended bass with an unobstructed 10" woofer for accurate low-frequency response
Bluetooth enabled
Built-in six-channel mixer with Bluetooth audio
All-in-one design
Carry conveniently in one hand

The EON ONE linear-array PA system brings legendary JBL professional audio to your next performance, conference, or meeting. Your entire audience will experience powerful, accurate sound, thanks to the patent-pending speaker configuration and unobstructed 10" bass reflex subwoofer. The built-in six-channel mixer with EQ makes it easy to get great sound instantly - simply connect your microphones and instruments, or stream Bluetooth audio from your mobile device. With a true all-in-one design that you can carry with one hand, it's effortless to set up and transport.

JBL Professional is the world's leading manufacturer of loudspeaker systems, using custom-designed and built drivers for optimal performance. The EON ONE is the best-performing loudspeaker in its class, owing to a linear array of speakers which are crossed over at 200 Hz to a powerful 10" subwoofer. The high-frequency unit uses JBL's patent-pending Directivity Control Geometry. This geometry optimizes the spacing and angles of the six high-frequency drivers to create extraordinarily even front-to-back coverage, ensuring that everyone in the listening area is hearing the sound accurately. The 10" woofer is unobstructed and takes advantage of JBL's slipstream port tubes for enhanced bass response with minimal port noise and distortion.
Portability: All the elements can be stored and transported in the unit itself, eliminating the need for additional bags. Weighing only 39 lbs, it can be easily carried with one hand - easily lifted into cars, carried up stairs, and stashed neatly away for storage.
Flexibility: The six-channel mixer has a variety of applications. Channels 1 and 2 can accept either a ¼" instrument cable or an XLR cable and have volume, reverb, treble, and bass control. Channels 3 and 4 accept either a stereo pair of ¼ inch TRS plugs or stereo RCA cables. Channels 5 and 6 accept a stereo 3.5 mm input for mobile devices like phones, tablets, or Bluetooth streaming audio. It has an RCA output channel that can be used to daisy-chain multiple speakers or to send a signal to a subwoofer, recording device, or outboard mixer.
Specs:
Seven speakers
Speaker drivers: 1x10" low frequency, 6x2" high frequency
Six mixer channels (includes two stereo channels)
Two mic preamps
Two-band channel EQ
Inputs: two XLR-1/4" combo, two 1/4" (left, right), two RCA stereo, one 1/8" TRS (stereo channel)
Outputs: two RCA stereo
Power amp: 250 watts low frequency, 130 watts high frequency
Total power: 380 watts
Frequency response: 37.5 Hz - 18.5 kHz
Playback: Bluetooth streaming
Black polypropylene enclosure
Height: 23.3" (base)
Width: 14.5"
Depth: 17"
Weight: 40.8 lbs.
This item ships directly from the vendor - additional shipping charges will apply.
Select a Product
WARNING: This product can expose you to chemicals which are known to the State of California to cause cancer, birth defects, or other reproductive harm.
Customers Also Bought