Essential Musicianship for Band
(Ensemble Concepts)
Eddie Green, John Benzer & David Bertman
- Hal Leonard Corporation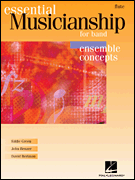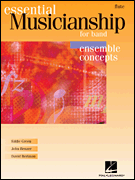 Essential Musicianship for Band
(Ensemble Concepts)
Eddie Green, John Benzer & David Bertman
- Hal Leonard Corporation
This amazing ensemble technique book zeros in on important, specific skills each musician must develop for successful ensemble performance. What makes this book stand apart is the degree of attention given to the most basic of techniques - yet those so often overlooked by musicians. Focus on sound, balance, what happens at the end of a note, matching the intensity of other players in the ensemble - these and many other difficult concepts are delivered with clarity, including goals that focus the players' attention throughout the exercise. Both new and seasoned directors will find inspiration and helpful techniques here. Your band will most certainly benefit from regular use of this book in rehearsal. It will work well for any band performing music at the easy through medium levels.
Select a Product
Customers Also Bought
Footnote
Value Pack contains the following books: 1 Conductor Score, 6 Flute, 1 Oboe, 1 Bassoon, 6 Clarinets, 1 Alto Clarinet, 1 Bass Clarinet, 4 Alto Sax, 1 Tenor Sax, 1 Bari Sax, 6 Trumpets, 2 French Horns, 2 Trombones, 1 Baritone BC, 1 Baritone TC, 1 Tuba, 1 String Bass, 2 Percussion and 2 Mallet Percussion.