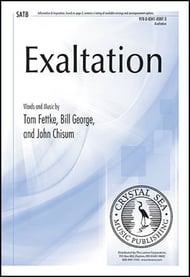 Exaltation
John Chisum, Tom Fettke, Bill George
- Crystal Sea Publications
Tom Fettke, creator of the worship classic,
The Majesty and Glory of Your Name,
has created yet another uniquely moving and powerful anthem. The text, inspired by the Psalms, exalts Almighty God as our Father, holy and transcendent, yet rich in unfailing love. Expressive melody lines are interwoven with choral writing that is lush but highly accessible. The keyboard accompaniment is both beautifully conceived and imminently playable. The optional orchestration is a stirring work of art.
Select a Product
Customers Also Bought