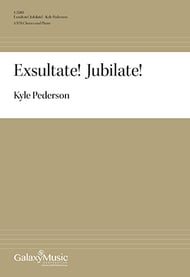 Exsultate! Jubilate!
Kyle Pederson
- Galaxy Music Corporation
This unique setting pairs the iconic Latin text with a new, original English text which responds to the question: Why do we rejoice and shout our praises to God? The music captures the energy, rhythm, and exuberance inherent in the phrases "exsultate Deo" and "jubilate Deo," but also reflects the quiet joys found in gratitude for the daily gifts of breath and light. The piano accompaniment is rhythmic and lively.
Select a Product
Customers Also Bought
This item appears on the following festival lists: