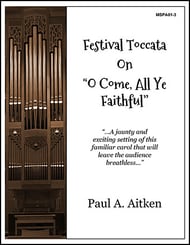 Fanfare Toccata on "O Come, All Ye Faithful"
Traditional / Paul A. Aitken
- Paul Aitken Music
Publisher Desc.
Commissioned by Cathedral of the Rockies' organist, David Young, for the 2014 production of Christmas at the Cathedral. This jaunty and exciting setting of this familiar carol will be sure to leave the audience breathless.
Select a Product
Customers Also Bought