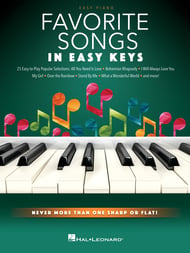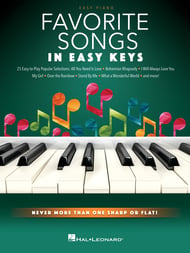 Favorite Songs in Easy Keys
Various Composers
- Hal Leonard Corporation
Publisher Desc.
You'll love playing from the Hal Leonard "In Easy Keys" series! Each collection in this series includes over 20 songs written in an "easy" key – never more than one sharp or flat in the key signature. Melody, harmony, simple rhythms, and fingering are included–as well as lyrics! Playing your favorite songs has never been easier! The Favorite Songs collection includes 25 songs: All You Need Is Love; Bohemian Rhapsody; I Will Always Love You; My Girl; Over the Rainbow; Stand by Me; What a Wonderful World and more.
Select a Product
Customers Also Bought
Full Song List
Africa
All Of Me
All You Need Is Love
Baby Love
Blue Skies
Bohemian Rhapsody
Crocodile Rock
Dancing Queen
I Will Always Love You
Jolene
Just The Way You Are
Mrs. Robinson
My Girl
Octopus's Garden
Over The Rainbow
Proud Mary
The Rainbow Connection
Spirit In The Sky
Stand By Me
Sweet Home Alabama
We Are Family
What A Wonderful World
Will You Love Me Tomorrow (Will You Still Love Me Tomorrow)
Yesterday
Y.M.C.A.