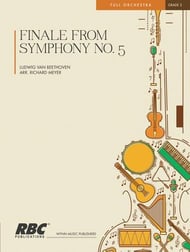 Finale from "Symphony No. 5"
Ludwig van Beethoven/arr. Richard Meyer
- Wynn Music Publishers
Now all of the energy and excitement of this great movement can be enjoyed by young players. Optional simplified string parts and careful doublings make it playable by orchestras with less than full instrumentation. An impressive arrangement of a celebrated masterwork!
Select a Product
Customers Also Bought
This item appears on the following state lists: