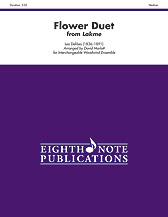 Flower Duet from "Lakme"
Leo Delibes/arr. David Marlatt
- Eighth Note Publications
This famous duet between the characters Lakme and Mallika comes from Delibes' opera "Lakme," and has been used in several movie soundtracks. It has been transcribed for a five part woodwind ensemble, with flexible instrumentation options available for each part.
Select a Product
Customers Also Bought
This item appears on the following state lists: