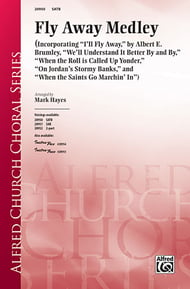 Fly Away Medley
arr. Mark Hayes
- Jubilate Music Group, LLC
A real gospel tapestry! The arranging genius of Mark Hayes shines in this stellar medley of gospel favorites, including Albert Brumley's
I'll Fly Away,
recently featured in the movie "O Brother, Where Art Thou?,"
We'll Understand It Better By and By; When the Roll Is Called Up Yonder; On Jordan's Stormy Banks
and
When the Saints Go Marching In.
Arranged in a "down-home" country style with fresh, playful choral harmonies, this will be as much fun to sing as it is to listen to. The SATB and SAB editions open with a stylized vocal trio feature that really gets things going. The terrific orchestration hits the mark and will guarantee a spectacular performance!
Select a Product
Customers Also Bought