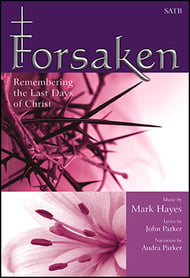 Forsaken
(Remembering the Last Days of Christ)
Mark Hayes
- Lorenz Corporation
This dramatic and moving cantata for Lent, Holy Week or Easter is comprised of eight choral pieces, each corresponding to the eight days in the life of Christ from Palm Sunday through Easter Sunday. It may be sung as a complete work during Holy Week, or selections may be presented individually for Palm Sunday, Good Friday, or Easter Sunday services. Use the full orchestration, or just piano through the Holy Week events for a completely different and fresh approach to your Easter week pageant. Contents:
Hosanna, We Sing; God's House of Prayer; To Show Our Love for God; So Rare a Gift; Torches and Swords; O, My Soul, What Darkness; Death Lay Heavy;
and
Praise the God of Resurrection!
Select a Product
Customers Also Bought