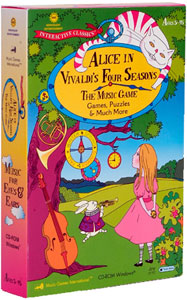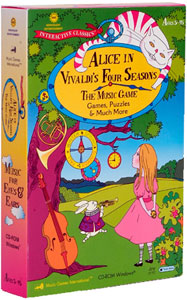 Four Seasons Music Game
Music Games International
- Art and Music Games
Winner of over 35 media, industry and educational awards, including Teacher's Choice and Teacher Raves Awards, MGI's Interactive Classics Series has been called "a perfect marriage of music and technology." Both Teaching Music and American Music Teacher Magazines recommended the series. The Series, consisting of three interactive musical titles, is filled with a variety of musical games, puzzles, riddles, animated encyclopaedias, listening rooms, trivia and other educational music-related activities. The titles are:
Tchaikovsky's Nutcracker, Mozart's Magic Flute
and
Alice in Vivaldi's Four Seasons
music games.
Select a Product
Customers Also Bought