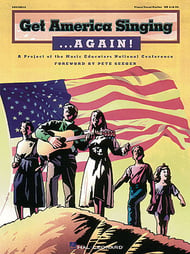 Get America Singing ... Again!
(Volume 1)
Various Composers
- Hal Leonard Corporation
The 42 songs in this wonderful collection are the cream of the crop of popular songs for group singing, including a variety of folk songs, pop standards, patriotic songs, inspirational songs and songs that are just plain fun to sing. Sponsored by the National Association for Music Education, with a foreword by Pete Seeger, this is a collection that will give you and your class or community group a wealth of marvelous material for many years to come! Here are just a few of the titles included: Amazing Grace; America the Beautiful; Battle Hymn of the Republic; Down by the Riverside; God Bless America; I've Been Workin' on the Railroad; If I Had a Hammer; Michael Row the Boat Ashore; Oh, What a Beautiful Mornin'; Sakura; Shalom Chaverim, Zip-A-Dee-Doo-Dah, plus 30 more. The Get America Singing and Moving DVD, created by the Master of Movement, John Jacobson, takes you step-by-step through fresh new choralography routines for ten of the favorite Americana songs from volume 1. Songs included on the DVD are: America the Beautiful; Down by the Riverside; Give My Regards to Broadway; He's Got the Whole World in His Hands; I've Been Working on the Railroad; Over My Head; Rock-a My Soul; She'll Be Comin' 'Round the Mountain; Simple Gifts and This Little Light of Mine.
Select a Product
Customers Also Bought
Full Song List
DOWN BY THE RIVERSIDE
FRERE JACQUES ARE YOU SLEEPING?)
GIVE MY REGARDS TO BROADWAY
GOD BLESS AMERICA
GOD BLESS THE U.S.A.
GREEN GREEN GRASS OF HOME
HAVAH NAGILAH
HE'S GOT THE WHOLE WORLD IN HIS HAN
HOME ON THE RANGE
I'VE BEEN WORKING ON THE RAILROAD
DE COLORES
IF I HAD A HAMMER THE HAMMER SONG)
LET THERE BE PEACE ON EARTH
LIFT EV'RY VOICE AND SING
MICHAEL ROW THE BOAT ASHORE
MY BONNIE LIES OVER THE OCEAN
OH! SUSANNA
OH, WHAT A BEAUTIFUL MORNIN'
PUFF THE MAGIC DRAGON
ROCK-A-MY SOUL
SAKURA CHERRY BLOSSOMS)
AMAZING GRACE
SHALOM CHAVEYRIM SHALOM FRIENDS)
SHE'LL BE COMIN' 'ROUND THE MOUNTAI
SHENANDOAH
SIMPLE GIFTS
SOMETIMES I FEEL LIKE A MOTHERLESS
THE STAR SPANGLED BANNER
SWING LOW, SWEET CHARIOT
THIS LAND IS YOUR LAND
THIS LITTLE LIGHT OF MINE
OVER MY HEAD
MY COUNTRY, 'TIS OF THEE AMERICA)
YESTERDAY
ZIP-A-DEE-DOO-DAH
MUSIC ALONE SHALL LIVE
AMERICA, THE BEAUTIFUL
BATTLE HYMN OF THE REPUBLIC
BLUE SKIES
DANNY BOY
DO-RE-MI
DONA NOBIS PACEM