Getty and Townend Praise Classics
(The Songs of Keith Getty, Kristyn Getty and Stuart Townend)
arr. James Koerts
- Alfred Music Publishing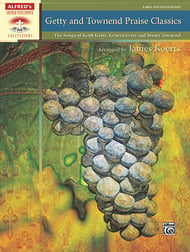 Getty and Townend Praise Classics
(The Songs of Keith Getty, Kristyn Getty and Stuart Townend)
arr. James Koerts
- Alfred Music Publishing
The collaborative efforts of Keith and Kristyn Getty, along with Stuart Townend, have produced long-lasting modern hymns for the church. This collection of early advanced piano settings is one you keep close, to reach for often. Contents:
Across the Lands (You're the Word of God); By Faith; Come, People of the Risen King; Compassion Hymn; How Deep the Father's Love For Us; In Christ Alone (My Hope Is Found); My Heart Is Filled With Thankfulness; O Church, Arise; The Power of the Cross (Oh, to See the Dawn); See, What A Morning (Resurrection Hymn); Speak, O Lord
and
Still My Soul, Be Still
(with
Be Still, My Soul
).
Select a Product
Customers Also Bought
Full Song List
ACROSS THE LANDS YOU'RE THE WORD OF GOD
BY FAITH
COME, PEOPLE OF THE RISEN KING
COMPASSION HYMN
HOW DEEP THE FATHER'S LOVE FOR US
IN CHRIST ALONE MY HOPE IS FOUND
MY HEART IS FILLED WITH THANKFULNESS
O CHURCH, ARISE
THE POWER OF THE CROSS OH, TO SEE THE DAWN
SEE, WHAT A MORNING RESURRECTION HYMN
SPEAK, O LORD
STILL, MY SOUL, BE STILL WITH BE STILL , MY S