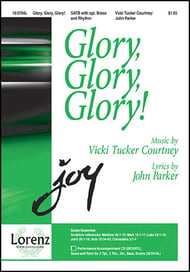 Glory, Glory, Glory!
Vicki Tucker Courtney
- Lorenz Corporation
Publisher Desc.
Shout the good news of the resurrection with this spirited, joyful Easter anthem. "Glory, Glory, Glory!" reverberates with gospel style. Regular syncopation, blues harmonies, and repetitive layered refrains combine as the choir sings "Jesus Christ is risen! Glory to the King!" Stan Pethel's great brass and rhythm score contributes to the gospel spirit.
Select a Product
Customers Also Bought