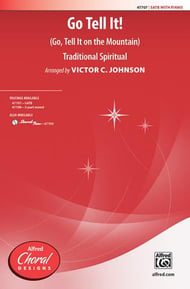 Go Tell It!
(Go, Tell It on the Mountain)
arr. Victor C. Johnson
- Alfred Music Publishing
A kickin' gospel arrangement of the traditional Christmas spiritual! This spirited treatment boasts rousing rhythmic syncopation, gospel harmonies, and a bridge breakdown section with a couple of riff-like solo opportunities. Your audience or congregation will be clapping and singing along to celebrate the vigorous conclusion, "He is born!"
Select a Product
Customers Also Bought