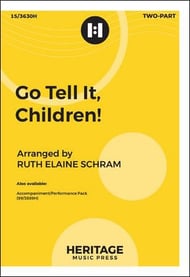 Go Tell It, Children!
arr. Ruth Elaine Schram
- Heritage Music Press
This lively partnering of Children, Go Where I Send Thee and Go, Tell It on the Mountain presents both tunes in unison, then combines them in clever counterpoint for a thrilling experience! Rehearse and perform with the piano accompaniment or the delightfully orchestrated accompaniment track. A quick learn that is a joy to present!
Select a Product
Customers Also Bought
MINTS