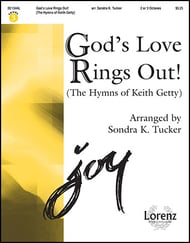 God's Love Rings Out!
(The Hymns of Keith Getty)
arr. Sondra Tucker
- Lorenz Corporation
Three of the finest works from the gifted hymn-writing team of Keith Getty and Stuart Townend are stunningly displayed in this creative medley. Sondra Tucker incorporates LV, martellato, martellato lift, ring touch, and echo techniques along with a particularly effective use of mallets in the final section. You will find many times in your worship services to include these titles:
Speak, O Lord; In Christ Alone
and
Across the Lands.
Select a Product
Customers Also Bought