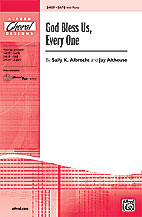 God Bless Us, Every One
Sally K. Albrecht & Jay Althouse
- Alfred Music Publishing
The title comes from the line spoken by Tiny Tim in Dickens' "A Christmas Carol."
The text evokes images of a star shining in the night and angels in the skies, followed by a Christmas blessing: "God bless us, every one, each daughter and each son. May blessings fall on all we hold dear..." A brief descant on a phrase of
Silent Night
adds the crowning touch to this sweet musical offering for Christmas.
Select a Product
Customers Also Bought
This item appears on the following state lists: