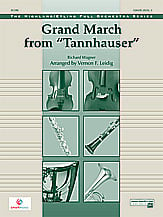 Grand March from "Tannhauser"
Richard Wagner/arr. Vernon F. Leidig
- Alfred Music Publishing
Bring a sense of occasion to concerts, special events and graduations with this stately arrangement of the classic Grand March. It's a fine mixture of strings and winds complementing each other and perfect as an introduction to the music of Wagner.
Select a Product
Customers Also Bought
MINTS
This item appears on the following festival lists: