Great Women Composers Fanny Mendelssohn
- Moretti Music Publishing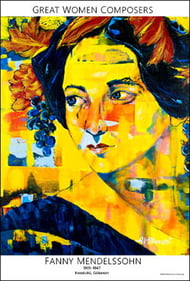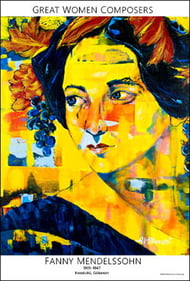 Great Women Composers Fanny Mendelssohn
- Moretti Music Publishing
Fanny Mendelssohn (1805-1847) Hamburg, Germany.
A remarkable pianist and composer of over 460 pieces of music. A number of Fanny's songs were published in her younger brothers' name, Felix Mendelssohn, who throughout his life would submit his compositions for her approval. She wrote largely for piano in song form and many marry the name of "Song without Words". This style and title of piano music was successfully developed by Felix however scholars assert that Fanny may have preceded him in the genre.
Poster made from an original painting by Al Moretti.
Collection 1, Set of 5 Women Composers, Hildagard von Bingen, Barbara Strozzi, Francesca Caccini, Elisabeth Jacquet de La Guerre, Princess Natalia Ivanovna Kurakina

Collection 2, Set of 5 Women Composers, Fanny Mendelssohn, Lili Boulanger, Clara Wieck Schumann, Louise Farrenc, Zitkala-Sa
Select a Product
Customers Also Bought