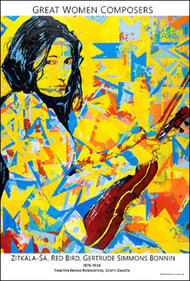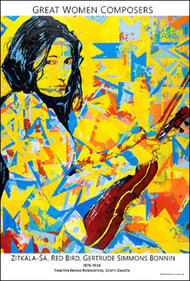 Great Women Composers Zitkala-Sa
(Red Bird, Gertrude Simmons Bonnin)
- Moretti Music Publishing
Zitkala-Sa (1876-1938) (Lakota: Red Bird), also known by the missionary-given and later married name Gertrude Simmons Bonnin, was a Sioux (Yankton Dakota) writer, editor, musician, teacher, and political activist.
Red Bird wrote the libretto and songs for The Sun Dance Opera, (1913), the first American Indian opera. Though the Opera was composed in a romantic style based on Sioux and Ute themes Red Bird was the first to transcribe traditional Indian songs and use authentic Indian stories and ceremonies adopted to western music standards. She taught music at the Carlisle Indian Industrial School in Pennsylvania. In 1900 she played violin at the Paris Exposition with the schools Indian band.
Zitkala-Sa wrote several works chronicling her youthful struggles with identity and the tragedy of forced integration while detailing the dynamics between the majority culture and her Native American heritage. Her articles were chronicled in Harper's and Atlantic Monthly. Her later books in English were among the first works to bring traditional Native American stories to a widespread white readership, and she has been noted as one of the most influential Native American activists of the twentieth century. Poster of original painting by Al Moretti.

Collection 1, Set of 5 Women Composers, Hildagard von Bingen, Barbara Strozzi, Francesca Caccini, Elisabeth Jacquet de La Guerre, Princess Natalia Ivanovna Kurakina

Collection 2, Set of 5 Women Composers, Fanny Mendelssohn, Lili Boulanger, Clara Wieck Schumann, Louise Farrenc, Zitkala-Sa
Select a Product
Customers Also Bought