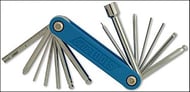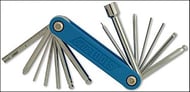 GrooveTech Drum Multi-Tool
- Harris Teller, Inc.
GrooveTech Drum Multi-Tool

Drums take a beating. Literally. Such abuse means ongoing adjustment and repair - even during a performance, so we developed the GrooveTech Drum Multi-Tool to quickly remedy problems on virtually all makes and models of drums. Of course, it starts with a drum key that's made to the same high standards as our T-Handle Drum Key. No multi-tool would be complete without the standard array of screwdrivers, so we provide a 5mm slotted and #1 and #2 Phillips. But where this tool really adds value is its collection of both inch and metric hex wrench sizes to handle pedals and other hardware. All tools are forged to precision tolerances using a heat-treated S2 alloy, and sport a polished chrome finish for a little extra bling on the bandstand.
Select a Product
Customers Also Bought