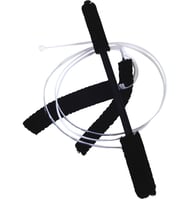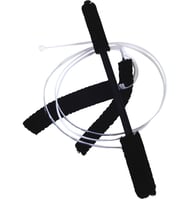 H.W. Brass Saver Cleaning Brushes
- Conn-Selmer, Inc.
The H.W. Brass-Saver set has revolutionized the way brass players clean their instruments. These brushes can be used wet or dry, contain absolutely no metal, and they won't scratch or get stuck. Their unique design is so flexible, they reach parts of the horn never before accessible. The
trumpet set
includes the mouthpipe pull-thru brush and a double-ended stick brush for valve casings and tubing, designed to fit through the narrowest of mouthpipes. The versatile slide pull-thru brush fits even the third valve slide, and the valve and tubing brush is so rugged it gets in and really scrubs the tubing and valve casings. With the
trombone set,
you can clean out your entire trombone slide in one simple step. The larger slide brush will clean both the outer and tuning slides. The smaller mouthpipe brush is specially designed to fit the narrowing in the mouthpipe. The
tuba set
includes a mouthpipe pull-thru brush, a slide pull-thru brush, and a valve and tubing brush, which together make the ultimate cleaning system for the big job of keeping the big horn in great playing shape.
Select a Product
Customers Also Bought