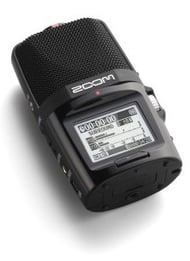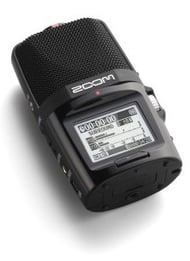 H2n Handy Recorder
Zoom
- Zoom North America
Representing a new generation of portable recording, the H2n allows you to record pristine audio anywhere you go. It features Zoom's best microphones yet and is the only portable recorder with five mic capsules on board, offering four unique recording modes: mid-side (MS) stereo, 90° X/Y stereo, and two-channel or four-channel surround sound.

The H2n is the first handheld recorder to offer mid-side stereo recording, a technique used for many years in film and broadcast where ambient surrounding noise is crucial. The H2n comes with a 2-GB SD card to get you started and can accommodate up to a 32-GB SDHC card for over 50 hours of recording time using the 16-bit/44.1 kHz WAV format.


Five built-in mic capsules provide mid-side (MS) stereo, 90° X/Y stereo, 2-channel and 4-channel recording modes
Records in WAV up to 24-bit/96 kHz and MP3 up to 320 kbps
Functions include low-cut filter, compressor/limiter, auto gain, pre-record, auto-record, tuner, metronome, variable speed playback, key control, A-B repeat, file dividing, normalize, MP3 post-encode, marker, and surround
Mixer data recovery function protects against unexpected recording errors
Over 20 hours of operation using two standard AA batteries
Operates on battery, AC, or USB bus power
1.8-inch backlit LCD display with 128 x 64 resolution
Analog-type mic gain wheel for precision volume control
Built-in reference speaker
High-speed USB 2.0 card-reader function
1/8-inch mic/line input and phones/line output stereo phone jacks
Accommodates up to 32-GB SDHC memory cards. SDHC card not included.

Includes Steinberg WaveLab LE 7 editing software, 2-GB SD memory card, and two AA batteries

The H2n accessory package (sold separately, #10303019) includes a wired remote control with an extension cable, windscreen, AC adapter (USB type), USB cable, adjustable tripod stand, padded-shell case, and mic clip adapter.
Select a Product
Customers Also Bought