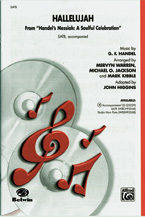 Hallelujah!
G.F. Handel/adapt. John Higgins
- Alfred Music Publishing
One of the most well-known, beloved masterworks of all time has been given a new sound! Jazz/Pop mogul Quincy Jones has recast this great work of George F. Handel into "Handel's Messiah: A Soulful Celebration." This single,
Hallelujah,
is a rousing gospel number with great harmonies, hand claps and a spiritual lift that will get everybody on their feet!
Select a Product
Customers Also Bought
This item appears on the following festival lists: