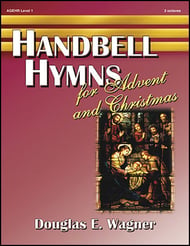 Handbell Hymns for Advent and Christmas
Douglas E. Wagner
- Lorenz Corporation
Performance success by just about any handbell ensemble is virtually guaranteed with each of these eight selections based on popular hymns for Advent and Christmas. No more than 22 bells are required, and ringers do not need to cope with any subdivisions of the beat or any bell changes. Contents are:
Gentle Mary Laid Her Child; God Rest You, Merry Christians All; Good Christian Friends, Rejoice; Let All Mortal Flesh Keep Silence; O Come, All Ye Faithful; On Christmas Night All Christians Sing
and
'Twas in the Moon of Wintertime.
Select a Product
Customers Also Bought
Full Song List
GENTLE MARY LAID HER CHILD
GOD REST YOU MERRY CHRISTIANS ALL
GOOD CHRISTIAN FRIENDS REJOICE
LET ALL MORTAL FLESH KEEP SILENCE
O COME ALL YE FAITHFUL
O COME O COME EMMANUEL
ON CHRISTMAS NIGHT ALL CHRISTIANS S
TWAS IN THE MOON OF WINTERTIME