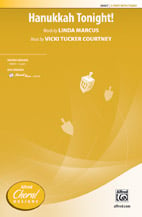 Hanukkah Tonight!
Vicki Tucker Courtney
- Alfred Music Publishing
Learn about the holiday and have fun singing this lively ditty, designed especially for two-part groups. No-fuss harmonies appear in the festive "lai, lai, lai" section and a long-tone countermelody embellishes the second verse. This is just what you want to sing and hear at Hanukkah!
Select a Product
Customers Also Bought