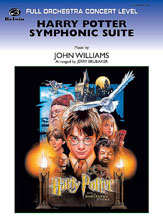 Harry Potter Symphonic Suite
John Williams/arr. Brubaker
- Alfred Music Publishing
Here's a marvelous medley of the themes from the hit movie that will bring out the best in your full orchestra, including:
Hedwig's Flight; Nimbus 2000; Hogwarts; Daigon Alley; Voldemort; Quidditch; Family Portrait
and
Leaving Hogwarts.
The sounds range from mysterious to humorous with everything in between, giving your orchestra many opportunities for expressiveness. A highly enjoyable work for both players and audience!
Select a Product
Customers Also Bought