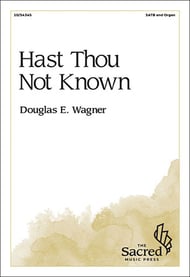 Hast Thou Not Known?
Douglas E. Wagner
- Lorenz Corporation
The text of this vibrant, festive anthem comes from familiar works of the prophet Isaiah. "But they that wait upon the Lord shall renew their strength; they shall mount up with wings as eagles." The words are enlivened by Douglas Wagner's thrilling music.
Copyright: : ©2020
Select a Product
Customers Also Bought