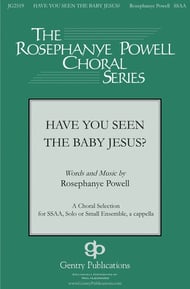 Have You Seen the Baby Jesus?
Rosephanye Powell
- Gentry Publications
A cappella
This is a new, original song, but it carries the sound of a favorite spiritual with both gospel and jazz influences. The form contains repeated phrases which make the piece easy to learn, and gives a unique style and feel to the driving spirit of the song.
Select a Product
Customers Also Bought
This item appears on the following festival lists: