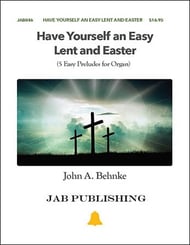 Have Yourself an Easy Lent/Easter!
(5 Easy Preludes for Organ)
John A. Behnke
- JAB Publishing
Three preludes for Lent and two preludes for the Easter season, very accessible, with idiomatic writing for the hands and feet. They are attractive, tuneful, and will capture the ear of the listener. Preludes on Go to Dark Gethsemane; In the Cross of Christ I Glory; O Sacred Head Now Wounded; Hail Thee Festival Day and This Joyful Eastertide are available as a collection or separately via ePrint.
Select a Product
Customers Also Bought