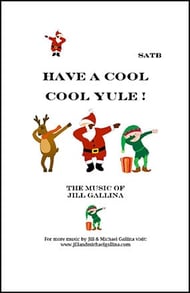 Have a Cool, Cool Yule!
Jill Gallina
- www.jillandmichaelgallina.com
Santa's riding in on a wave of retro surfer rock! Choirs of all ages will love this upbeat holiday novelty with its melodic hook, singable harmonies and danceable beat. Add some simple choreography or holidays props, and you'll have a show-stopping way to say "Merry Christmas!"
Select a Product
Customers Also Bought
MINTS